Simplifying WPA2-Enterprise and 802.1x
WPA2-Enterprise has been around since 2004 and is still considered the gold standard for wireless network security, delivering over-the-air encryption and a high level of security. In conjunction with the effective authentication method known as 802.1x for Cloud RADIUS, users have been successfully authorized for secure network access for many years. But in that time, WPA2-Enterprise hasn't gotten any easier to manually configure. Regardless of whether you are deploying a wireless network for the first time or a seasoned expert, there are always unique challenges ready to give you a headache. Luckily, tried and true networking solutions are available to that seek to correct the network difficulties you experience.
Deploying WPA2-Enterprise and 802.1x
---
There are just a few components that are needed to make 802.1x work. Realistically, if you already have access points and some spare server space, you possess all the hardware needed to make secure wireless happen. Sometimes you don't even need the server: some access points come with built-in software that can operate 802.1x (though only for the smallest of small deployments). Regardless of whether you purchase professional solutions or build one yourself from open source tools, the quality and ease of 802.1x is entirely a design aspect.
---
802.1x Authentication Methods
Before users can be authenticated for network access day-to-day, they must be onboarded to the secure network. Onboarding is the process of reviewing and approving users so they can connect to the secure network using a form of identification, such as username/password or certificates. This process often becomes a significant burden because it requires users to get their devices configured for the network. For regular network users, the process can prove to be too difficult because it requires high level IT knowledge to understand the steps. For example, universities at the beginning of an academic year experience this when onboarding hundreds or even thousands of student's devices and results in long lines of support tickets. Onboarding clients offer an easy-to-use alternative that enables end users to easily self-configure their devices in a few steps, saving users and IT admins a ton of time and money.
Password-Based Authentication
The vast majority of authentication methods rely on a username/password. It's the easiest to deploy since most institutions already have some sort of credentials set up, but the network is susceptible to all of the problems of passwords without an onboarding system (see below).
For password-based authentication, there are basically 2 options: PEAP-MSCHAPv2 and EAP-TTLS/PAP. They both function similarly, but TTLS is not supported by any Microsoft OS before Windows 8 without using a third party 802.1x supplicant, such as our Enterprise Client. At this point, most institutions have deployed or made the switch to PEAP. However, you can't deploy PEAP without either using Active Directory (a proprietary Microsoft service) or leaving your passwords unencrypted.
Token-Based Authentication
Historically, tokens were physical devices in the form of key fobs or dongles that would be distributed to users. They generated numbers in sync with a server to add additional validation to a connection. Even though you can carry them around and utilize advanced features like fingerprint scanners or as USB plug-ins, dongles do have downsides. They can be expensive and are known to occasionally lose connection to the servers.
Physical tokens are still in use, but their popularity is waning as smartphones have made them redundant. What was once loaded onto a fob you can now put into an app. In addition, there are other methods for two-factor authentication outside of the EAP method itself, such as text or email confirmations to validate a device.
Certificate-Based Authentication
Certificates have long been a mainstay of authentication in general, but are not typically deployed in BYOD settings since certificates require users to install them on their own devices. However, once a certificate is installed, they are amazingly convenient: they are not affected by password change policies, are far safer than usernames/passwords, and devices are authenticated faster.
SecureW2's PKI services, combined with the JoinNow onboarding client, create a turnkey solution for certificate-based Wi-Fi authentication. An effective PKI provides all the necessary infrastructure to implement a certificate-based network and maintains the security and distribution of all network certificates.. Organizations can now seamlessly distribute certificates to devices and manage them with ease using our powerful certificate management features.
---
WPA2-Enterprise Challenges
In our experience, we've found that the average WPA2-Enterprise network suffers from a combination of these 4 problems:
Drawback #1: Device variation
When IEEE created the 802.1x protocol in 2001, there were few devices that could use wireless access and network management was much simpler. Since then, the number of device manufacturers has exploded with the rise of mobile computing. To give some perspective, there are more flavors of Android today than there were entire operating systems in 2001.
Support for 802.1x is inconsistent across devices, even between devices of the same OS. Each device has unique characteristics that can make them behave unpredictably. This problem is made worse by unique drivers and software installed on the device.
Drawback #2: MITM and delivering certificates
While WPA2 offers a very secure connection, you also have to be sure that the users will only connect to the secure network. A secure connection is meaningless if the user unknowingly connected to a honeypot or imposter signal. Institutions often sweep for and detect rogue access points, including Man-in-the-Middle attacks, but users can still be vulnerable off-site. A person with a laptop can attempt to quietly gather user credentials at a bus stop, coffee shop, or anywhere devices might pass through and try to auto-connect.
Even if the server has a certificate properly configured, there's no guarantee that users won't connect to a rogue SSID and accept any certificates presented to them. The best practice is to install the public key on the user's device to automatically verify the certificates presented by the server.
To learn more about MITM attacks, read our breakdown here.
Drawback #3: The Password change problem
Networks with passwords that expire on a regular basis face an additional burden with WPA2-Enterprise. Each device will lose connectivity until reconfigured. This was less of an issue when the average user had only one device, but in today's BYOD environment, each user is likely to have multiple devices that all require a secure network connection. Depending on how password changes are enacted or the users' abilities to manage passwords, this can be a burden on helpdesks.
It's even worse on networks that have unexpected password changes due to data breaches or security vulnerabilities. In addition to having to roll out new credentials site-wide, IT has to deal with an influx of helpdesk tickets related to Wi-Fi.
Drawback #4: Changing user expectation
By far the most difficult part of completing a WPA2-Enterprise network setup is training the users. Users today have incredibly high expectations for ease of use. They also have more options than ever to work around official access. If the network is too hard to use, they'll use data. If the certificate is bad, they will ignore it. If they can't access something they want, they will use a proxy.
For WPA2-Enterprise to be effective, you need to make it as easy as possible for network users to navigate without sacrificing security.
Before you get started on your WPA2-Enterprise network, check out our primer on the most common mistakes people make when setting up WPA2-Enterprise.
---
Simplifying WPA2-Enterprise with JoinNow
A properly configured WPA2-Enterprise network utilizing 802.1x authentication is a powerful tool for protecting the safety of network users and securing valuable data; but by no means is this the end of network considerations you need to make. Many components contribute to the security and usability of the network as a complete system. If just the authentication method is secure while the configuration of managed devices is left to the average network user, there is a serious risk to the integrity of the network. SecureW2 recognizes that every facet of the wireless network must work in unison for iron-clad security, so we've provided some turnkey concepts that every network administrator needs to consider in their network planning.
Efficiency Through Onboarding

One of the greatest challenges for network administrators is efficiently and accurately onboarding users to the secure network. If left to their own devices, many users will misconfigure. Configuring for a WPA2-Enterprise network with 802.1x authentication is not a simple process and involves several steps that a person unfamiliar with IT concepts would not understand. If users are not connecting to the secure SSID and are not properly set up for WPA2-Enterprise, the security benefits admins expect will be lost. For those that want the advantages that come with certificate-based networks, many opt to deploy an onboarding client that will automatically configure users devices.
Onboarding clients, such as those offered by SecureW2, eliminate the confusion for users by prompting them with only a few, simple steps designed to be completed by K-12 age students and up. The result is a properly configured WPA2-Enterprise network with 802.1x authentication that has successfully onboarded all network users to the secure network.
Want more info on the advantages of a streamlined and secure Bring Your Own Device (BYOD) Onboarding software? Check out this informative piece on onboarding!
Certificate-Hardened WPA2-Enterprise
A PKI enables organizations to use x.509 certificates and distribute them to network users. It consists of an HSM (Hardware Security Module), CAs, client, public and private keys, and a CRL (Certificate Revocation List). An effective PKI significantly bolsters network security, allowing organizations to eliminate password-related issues with certificate-based authentication. Once the PKI is configured, network users can begin enrolling for certificates. This is a challenging task to complete, but organizations that have used an onboarding client have had the most success distributing certificates. SecureW2 is able to provide all the tools needed for a successful PKI deployment and efficient distribution of certificates. After equipping their devices with a certificate, users are ready to be authenticated for the wireless network. Beyond secure wireless authentication, certificates can be used for VPN, Web application authentication, SSL Inspection security, and much more.
WPA2-Enterprise Managed Device Configuration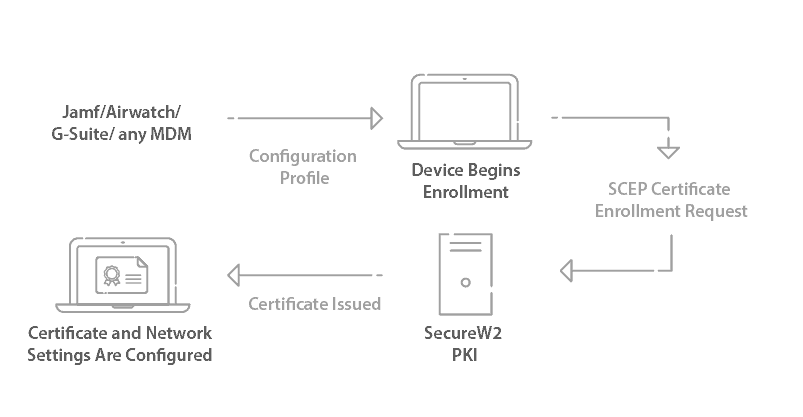 Enterprises with managed devices often lack a unified method of getting devices configured for certificate-driven security. Allowing users to self-configure often results in many misconfigured devices, and leaving the task to IT can be mountainous. Configuring dozens, or sometimes even hundreds, of devices manually for a secure WPA2-Enterprise network is often considered too labor-intensive to be worthwhile. SecureW2's advanced SCEP and WSTEP gateways provide a means to auto-enroll managed devices with no end user interaction. In one fell swoop, these gateways allow an IT department to configure managed devices from any major vendor for certificate-driven network security.
RADIUS Servers and Policy Driven Access Control
The RADIUS server plays a critical role in the network, authenticating every device when they connect to the network. SecureW2's JoinNow solution comes built-in with a world-class Cloud RADIUS server, providing powerful, policy-driven 802.1x authentication. Backed by AWS, it delivers high availability, consistent and quality connections, and requires no physical installation. The server can be easily configured and customized to fit any organizations' requirements, with no forklift upgrades of existing infrastructure required. Once fully integrated, the certificate-based network is ready to begin authenticating network users.
SecureW2 also offers an industry-first technology we call Dynamic Cloud RADIUS that allows the RADIUS to directly reference the directory – even cloud directories like Google, Azure, and Okta. Instead of making policy decisions based on static certificates, the RADIUS makes runtime-level policy decisions based on user attributes stored in the directory.
Dynamic RADIUS is an enhanced RADIUS with better security and easier user management. Want to know more? Talk to one of our experts to see if your WPA2-Enterprise network can benefit from Dynamic RADIUS.
The keys to a successful RADIUS deployment are availability, consistency, and speed. SecureW2's Cloud RADIUS equips organizations with the tools they need to make the secure network easy to connect to and always available so users are consistently protected from outside threats.
---