JoinNow MultiOS
---


JoinNow MultiOS is a class-leading Wireless security deployment platform and device tracking/management platform from the team that brought you the popular SecureW2 Enterprise Client. JoinNow combines unsurpassed ease-of-use via a browser launched wizard with unrelenting security for BYOD users across every major operating system.
JoinNow is customizable and adaptable, supporting the most commonly used Wireless authentication services and EAP methods. JoinNow MultiOS takes the frustration out of secure networks and delivers a powerful, reliable and affordable solution for deploying and monitoring secure networks in the age of BYOD.
As the number of BYOD users and devices increases rapidly, it is imperative for network administrators and IT departments to prepare their networks. JoinNow automates authentication and configuration for secure wireless, enables the control and monitoring of device network access, and delivers the highest quality secure wireless access possible to employees and students of institutions of all sizes.

Rapid Configuration And Connection
Configuring and connecting devices for secure wireless access in a reliable manner is one of the most challenging components of deploying WPA, WPA2 and 802.1X. JoinNow MultiOS deployment technology streamlines this process for end-users via a browser based self-service method and takes a tremendous burden off of IT departments and help desks.
JoinNow MultiOS technology makes getting configured for secure Wi-Fi as simple as following some click-through instructions online. JoinNow makes BYOD more secure, by eliminating shortcuts taken by self-configuration. JoinNow MultiOS utilizes all parts of 802.1X security standards including usage of certificates and dramatically reduces the number and frequency of expensive help desk calls.
Configuring a device for secure network access is often the most difficult component of deploying 802.1X. The JoinNow MultiOS technology streamlines this process for end-users and takes a tremendous burden off of IT departments.
By simplifying the configuration process for both end-users and network administrators, the JoinNow MultiOS technology makes BYOD deployments a breeze, enables the simple and reliable use of 802.1X security standards, and dramatically reduces the number and frequency of expensive help-desk calls.
Auto-Detect & Provision Any Device
Windows 10, 8.1, 8, 7, Vista, XP
Windows RT
OS X 10.5 and up
Android 2.1 and up
iOS 2.0  and up
Chrome OS
Kindle Fire
Linux
---
Supports Any WLAN Configuration
Supports all major EAP methods (PEAP-MSCHAPv2, TTLS-PAP, EAP-TLS, PEAP-GTC, PEAP-TLS)
TTLS-PAP and PEAP-GTC support available on Windows platforms.
Use any identity store: Active Directory, Novell/Sun/Other LDAP, Kerberos, Certificate Authority, SQL Database
Use any Authentication Server: Microsoft RADIUS, FreeRadius, Cisco ACS/ISE, Juniper Steel Belted, Open Systems RADIATOR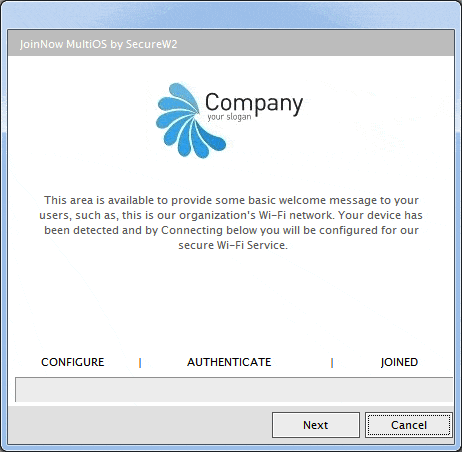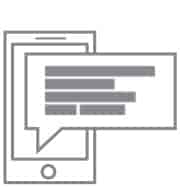 Device Profiling
Millions of devices are connecting to secure Wi-Fi networks on a daily basis. As users continue to rely more heavily on Wi-Fi networks, it has become imperative for network administrators to have full visibility and management of their network.
JoinNow delivers a plethora of end-user data, reporting back successful connections, errors, device info, and much more. With JoinNow, network administrators come out of the dark and into the light of full network visibility and device monitoring.
As the BYOD movement continues to grow, the number of Wi-Fi enabled devices connecting to secure networks has increased exponentially. Along with this growth comes the tremendous challenge for network administrators to monitor these devices, including tablets, smartphones, and traditional laptops. In order to maximize the network capabilities and health, network administrators want and need to see exactly who and what is connecting to their network.
Visibility, control and management of network devices connecting to a network are necessary components of a healthy and secure network. JoinNow MultiOS delivers these highly demanded tools in a lightweight and powerful package, accessible via the Customer Management Portal on any web browser.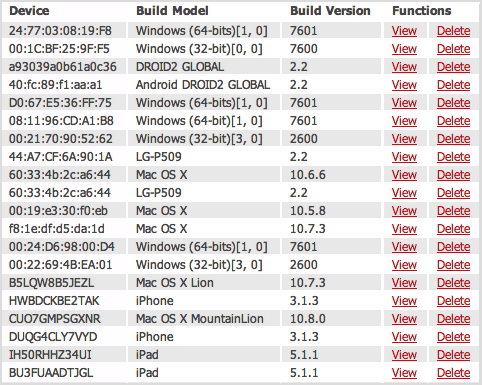 Unrivaled device management capabilities allow you to troubleshoot errors in real-time with individual devices and monitor network connections.
View and fingerprint what devices are connecting to the network, when they are being on-boarded at the same time monitoring any connection messages users are encountering.
Network administrators can utilize this data to analyze the types of devices that are entering their network and assess patterns. When faced with a help desk call from a user who is having difficulties connecting, the ability to track the progress of this device is invaluable in providing a superior on-boarding experience for the user.
---
Detailed individual device information such as network adapters, MAC address, driver versions, manufacturer and driver date help network admins begin the troubleshooting process and analytics from the cloud.

---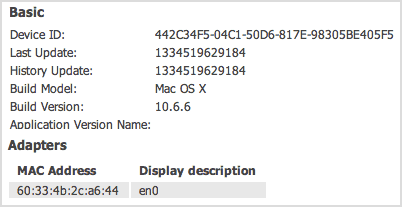 End-user data including device type, operating system/build version, and application version is securely reported back to the cloud and made available for network admins for use in assessing connection patterns and creating network visibility.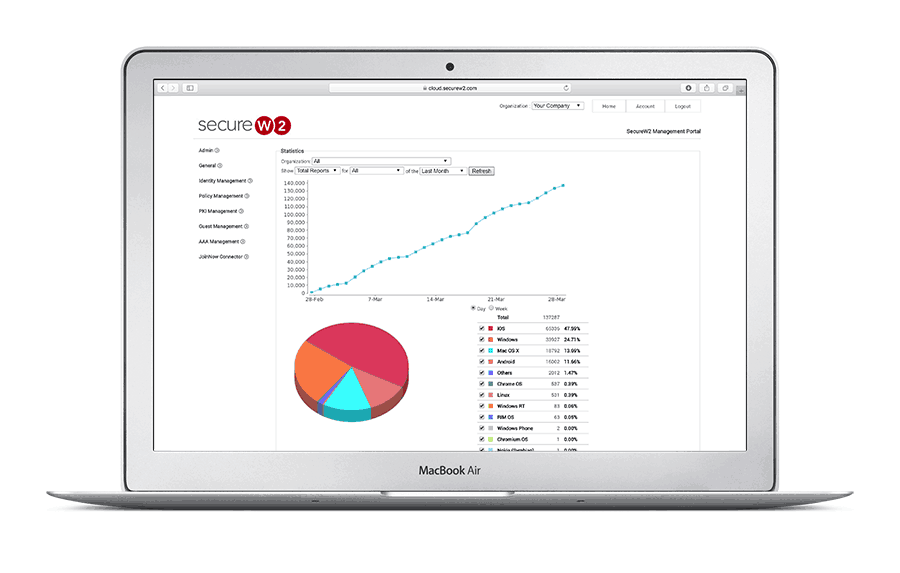 Detailed Reporting
Built into JoinNow MultiOS. Because anything worth doing is worth keeping track of.
---

Enhanced Network Administrator Settings
As the BYOD movement continues to grow, the number of Wi-Fi enabled devices connecting to secure networks has increased exponentially. Along with this growth comes the tremendous challenge for network administrators to monitor and control network access for these devices, including tablets, smartphones, and PC's.
JoinNow delivers priceless tools to network administrators that make wireless network management easier than ever.
JoinNow MultiOS technology delivers powerful administrative tools for network administrators. With JoinNow, it has never been easier to deploy secure wireless for BYOD.
Network administrators can create and deploy unique secure configuration packages in less than 60 seconds, making the deployment process simpler for both network administrators and end-users.
Enabling server certificate validation adds additional security for wireless networks. JoinNow MultiOS allows network administrators to easily manage certificates. Choose from the supplied list of CA certificates, or upload a private certificate. No matter what your certificate needs are, JoinNow MultiOS delivers the needed tools to manage your network.
---

Network administrators need to be able to customize their network and the messages that end-users receive. JoinNow MultiOS technology allows for fully customizable messages after successful connections, during errors, after launch of application, etc. Alternate username and password prompts allow network administrators the freedom to make the JoinNow experience unique and customized for their employees and students.
JoinNow MultiOS technology also offers native support for Active Directory, Open LDAP, Sun/iPlanet, Novell eDirectory, IBM, Apple, Keberos, SQL DB authentication sources. Support for most RADIUS servers includes Microsoft NPS/IAS, Cisco ACS, Juniper, FreeRADIUS, RADIATOR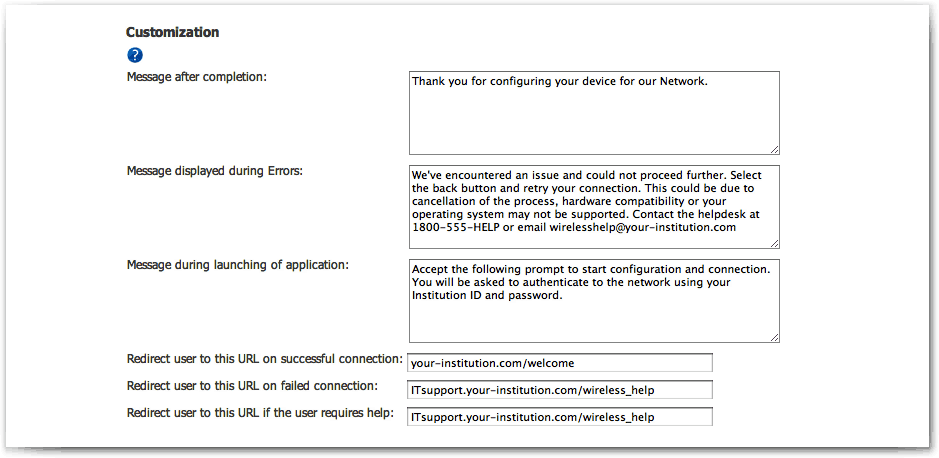 ---
JoinNow allows network administrators to select supported Operating Systems for their BYOD wireless deployments. For example, network administrators may choose to exclude Kindle Fire devices from using JoinNow to connect to secure wireless and provide alternate instructions for using those devices via an institution URL.
JoinNow MultiOS delivers all the features you need for a dynamic and powerful network. JoinNow features proxy server support for additional security, with automatic detection of proxy settings for Windows devices. JoinNow also allows network admins to add and remove SSID's with total ease and simplicity.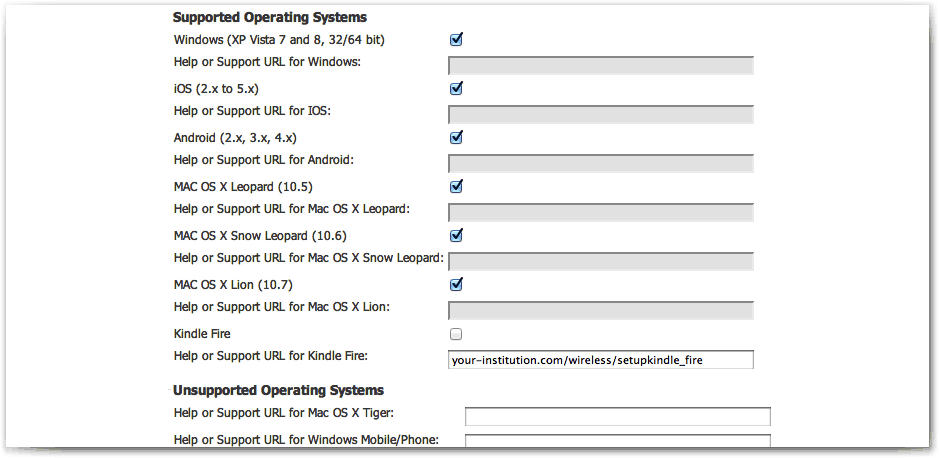 Customizable Enhanced End-User Experience
Nothing is more important then delivering a great Wi-Fi experience to end-users. The JoinNow MultiOS technology features a straightforward, self-service UI that gets users configured and connected in under a minute. Once connected, there's no need to re-enter credentials or reconfigure with JoinNow. Simple, streamlined, and secure.
JoinNow provides network administrators the freedom to customize their configuration packages. Customized logos, vanity URL's, alternate prompts, etc.
Delivering the best end-user experience is paramount for any network administrator. At the end of the day, delivering a great wireless network is what really matters.
JoinNow delivers the best possible user experience for any network and makes the configuration process a breeze for even the most basic user. The most complicated configurations that once involved 15 step walkthroughs become as simple as 1-2-3.
Configurations are completed quickly and reliably, and end users simply follow customizable prompts. Users can follow configuration and connection progress on-screen.
New sleek and customizable user interface makes secure network access for BYOD users a snap.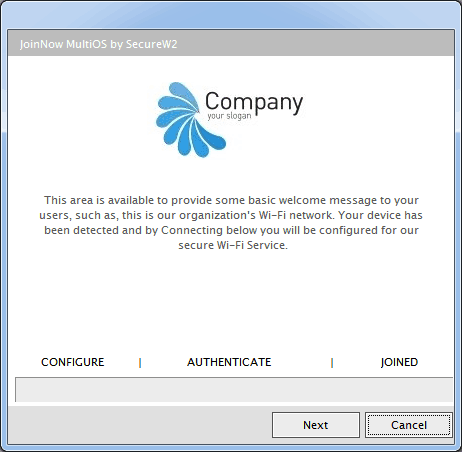 Auto-detection and support for every major device operating system (Windows, Mac OSX, Apple iOS, Android, and the Kindle Fire).
Add your institution logos, messages, help screens, error resolution suggestions and alternate username/password prompts
Customizable welcome screen provides users with instructions or a friendly greeting
With the JoinNow interface, users are kept up to date regarding the progress of their authentication and connection. When JoinNow technology detects errors it guides users through the resolution process

Simple package deployment options, locally hosted on your network or made available in cloud
Customizable messaging for successful and failed connections
Multiple options for end-user delivery, including vanity URL or searchable via an organization code or name.
JoinNow MultiOS technology features support for vast majority of the world's most popular mobile devices. JoinNow has been proven effective on hundreds of models from dozens of manufacturers including Apple iPhone and iPad. The JoinNow Android app is available via Google Play for simplified deployments on Android devices (2.x and above). JoinNow also supports a vast ecosystem of devices utilizing operating systems based on the Android platform.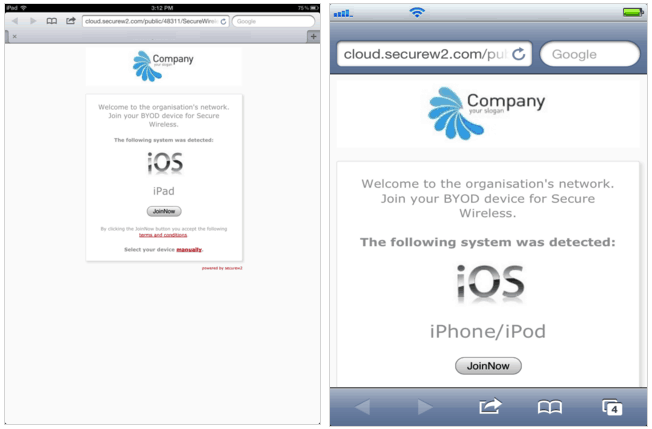 Why SecureW2?
Find out why so many organizations trust SecureW2 to make their secure wireless better.
---