Solutions for SMBs
Certificate-driven network security & WPA2-Enterprise security were initially reserved for large enterprises, but with advancements in technology and the growing risk of credential theft, SecureW2 has made enterprise level network security available for every business. Prevent Over-the-Air Credential Theft
Replace Passwords with Certificates
In 2015, 43% of cyber attacks targeted small businesses, with 60% going out of business in the 6 months following an attack. SMBs possess valuable data, but don't often prioritize network security. SecureW2 provides a cost-effective and turnkey solution for SMBs to prevent over-the-air credential theft.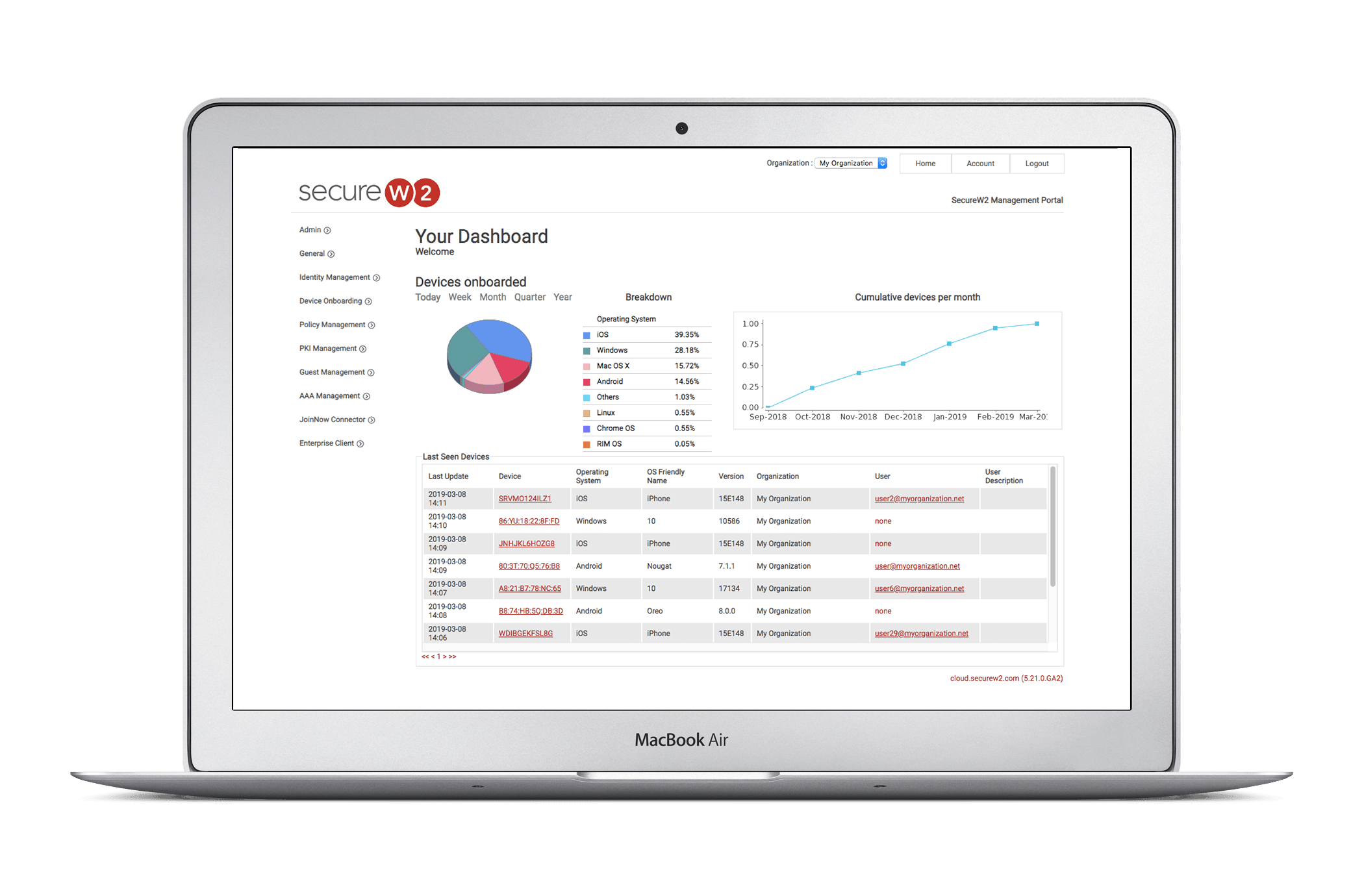 Everything Needed for
Certificate-Based Authentication
We provide everything an organization needs to deploy EAP-TLS, certificate-based 802.1X for Wi-Fi security. The #1 rated onboarding client to enroll certificates, certificate management tools, managed device auto-enrollment gateways, a dynamic RADIUS solution and much more is included in the SecureW2 solution. Plus, we're vendor neutral. You can plug and play any part of our solution, so there's no need to forklift your existing network infrastructure.
Industry-First
Dynamic Identity-Driven Network Access
Pairing Cloud RADIUS with our industry exclusive Dynamic Policy Engine that works with Azure, Okta, and Google. Dynamic RADIUS enables run-time level policy decisions and can automate user access level for Wi-Fi, WPN, Web Apps, and much more. All you need to do is point the Cloud RADIUS server to your SAML or LDAP Identity Provider and you're good to go!
Best-in-Class
Configuration Client
Starting with a great end user experience, the JoinNow Suite provides customizable and adaptable onboarding clients that set up devices for Wi-Fi, VPN, Web and SSL Inspection security. JoinNow takes the frustration out of delivering secure networks by delivering all turnkey backend services for device enrollment, authentication and management. In an age where BYOD, IoT, and managed devices reign, our technology provides the answers by leveraging the components you currently own.
Managed Device
Auto-Enrollment
Use our advanced gateway to auto-enroll devices managed by JAMF, Airwatch, G-Suite and any other MDM. Enable AD-Domain joined devices to auto-enroll using simple GPO settings. Ensure all managed devices are re-enrolled at the time of expiration to lessen support tickets and decrease downtime. In one fell swoop, all managed devices will be ready for certificate-driven network security.
Cost Effective and Vendor Neutral
Priced with SMBs in Mind
Advanced network security isn't just for large organizations and shouldn't require an army of deployment experts and IT administrators. SasS enabled and ready to configure and use in an hour, SecureW2 provides the industry's most vendor-neutral turnkey integration with all your existing Wi-Fi, FW, and VPN infrastructure. Along with SMB-friendly cost and licensing models, we can help maximize your ROI on security spend.