DPI SSL Solutions
SecureW2 allows organizations to easily distribute DPI SSL certificates, so that organizations can allow their firewalls to decrypt and inspect SSL traffic for threats. Generate and Manage Certificate Authorities
Not all Firewalls come with the tools necessary to enable the secure inspection of SSL traffic. Our PKI services allow you to generate your own Root and Intermediate Certificate Authorities, so you can enable your Firewall to inspect the traffic it needs.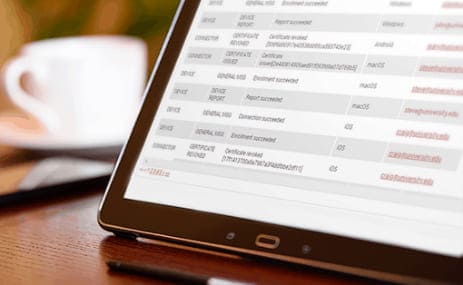 Distribute and Install Certificates in all Devices and Browsers
SecureW2 has the #1 Rated, Best-in-Class Device Onboarding solution in the industry that supports every operating system and browser to ensure that every device is equipped with certificates. Enable end users to easily self-service themselves for certificates through our intuitive landing pages and software, or push them via MDMs.
Configure Alongside Wi-Fi, VPN, Application Login and More
The SecureW2 platform enables organizations to easily configure all of their devices for secure Wi-Fi, VPN, Web-Application Authentication and much more alongside DPI SSL certificate issuance. In one fell swoop, devices can be configured with all they need for secure authentication across the network.
Infrastructure to Support BYODs
SecureW2 enables organizations that have traditionally only supported managed devices or K-12 one-to-one devices, to also support BYOD devices. The #1 rated onboarding client enables easy WPA2-Enterprise self-configuration for BYOD devices. With our turnkey PKI, organizations can use the identity context that certificates provide alongside implementing SSL inspection so admins can enforce any content filtering policies necessary.