By integrating with existing RADIUS infrastructure, SecureW2's wireless solutions can be integrated within hours, not days. The security benefits of a WPA2-Enterprise network with certificate-based authentication are experienced upfront, and certificates can be configured for uses such as SSL inspection, VPN, and wired security, and much more. The setup below will demonstrate how to integrate with an existing RADIUS to authenticate x.509 certificates for secure Wi-Fi access.
To complete this setup, you will need to have configured:
An ExtremeControl RADIUS Server
A SecureW2 Network Profile
An Identity Provider
Configuring ExtremeControl for Identity Lookup
On the Extreme dashboard, select Control > Access Control > Configurations > Default > Rules
Click Add to add a new rule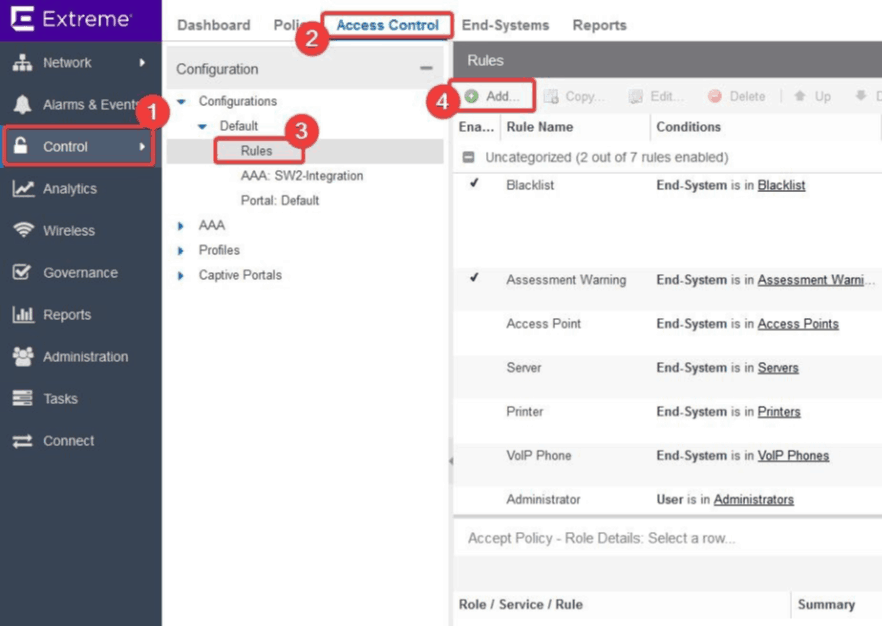 Enable the Rule Enabled option
Navigate to Conditions > User Group
From the drop-down menu, select New

Enter a Name and Description
Select Type as User: LDAP User Group
Click Create

In the next window, select Match Mode as Any
Under LDAP User Group Entry Editor, enter the following values:

Enter Attribute Name as userAccountControl
Enter Attribute Value as 512
From the drop-down menu, select the LDAP Server configured

Click Update

Configuring ExtremeControl with AAA SecureW2 CRL
Select Control > Access Control > AAA
Click Add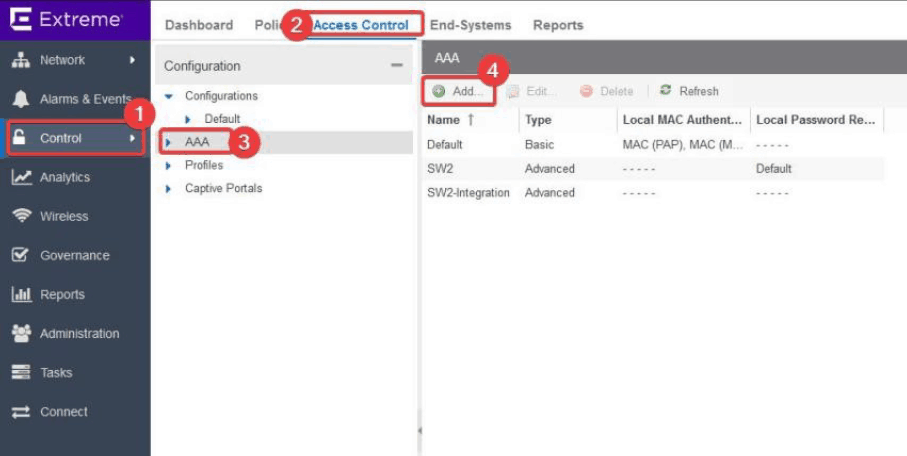 Enable Advanced Configuration and add a name for your reference
De-select the option Authenticate Requests Locally for
Click on Update Trusted Authorities to open the Update AAA Trusted Certificate Authorities window
In the Drop files here or click to browse section, the SecureW2 Root and Intermediate certificates need to be selected
Select the Use CRLs option
Click on Add and enter the Base CRL of SecureW2 Root certificate

Repeat this step and enter the Base CRL of SecureW2 Intermediate certificate
If you want to allow your Extreme Access Control to authenticate end-users when the Extreme Access Control is unable to reach the SecureW2 servers to validate the status of user-certificates, enable the option Allow expired CRLs to be used when checking CRLs

Click Ok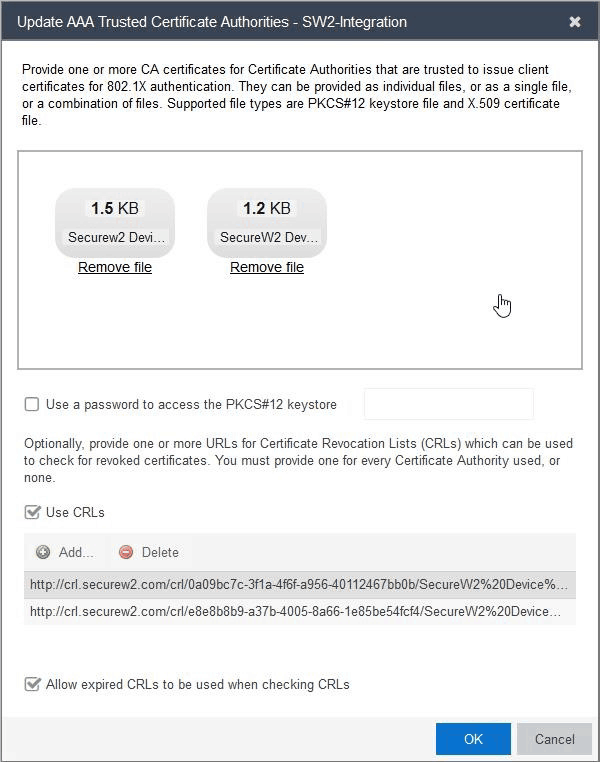 Under Authentication Rules, click Add to open the Edit user to Authentication Mapping window and enter the following values

Set Authentication Type as 802.1X
Set Authentication Method as LDAP Authentication
Set LDAP configuration as your LDAP server that is already configured

Click Ok
Click Save
Map the newly configured AAA configuration to be pushed to the Extreme Access Control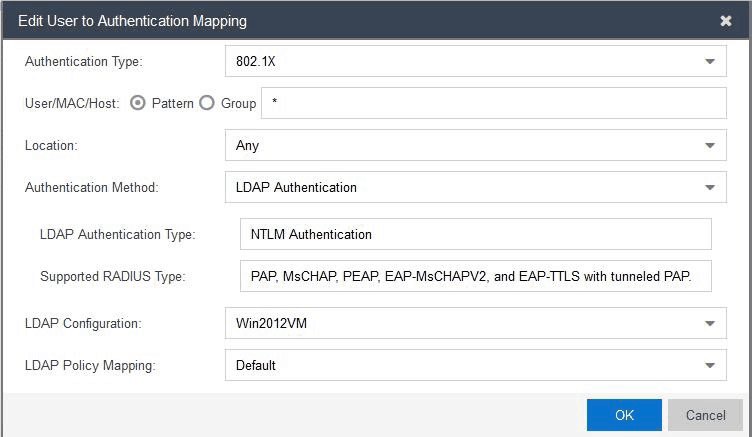 Concluding Thoughts
Network users can now seamlessly self-onboard their devices for a WPA2-Enterprise network. Once they are assigned certificates, the security risks of data breaches and credential theft drop dramatically.  Additionally, network administrators can take full advantage of the network visibility enhancements, such as tying each user and device to a connection, or remotely diagnosing connection issues. So if you'd like to try out SecureW2, or have any questions about how we integrate with ExtremeControl, drop us a line! We are happy to introduce a network professional with an ExtremeControl expert to facilitate a free trial and show how easy it can be to deploy certificate-based authentication.
ExtremeControl and Extreme Networks are either registered trademarks or trademarks of Extreme Networks in the United States and/or other countries. Other trademarks, logos and service marks used in this site are the property of SecureW2 or other third parties.